Enjoy condo living to the fullest when you make sustainable choices.
With a new normal that requires us to still stay as much as we can in the comfort of our homes, it is imperative that we convert our homes to make them as comfortable for everyone as possible, and Earth-friendly, too. Adopting some sustainable habits will make for a huge difference in the long run.
Make room for less
A compact space makes you more mindful of the things you acquire and will ultimately teach you the value of needs vs wants. Choosing only things that really bring you joy rather than being a fleeting source of happiness keeps you from having to worry about constant clutter. It's also a good way to teach you how to save.
Re-decorate your unit to make room for natural lighting and better ventilation. Lucky for you, SMDC units are already built as such. You just need to make sure that your furniture and furnishings maximize these built-in features.
---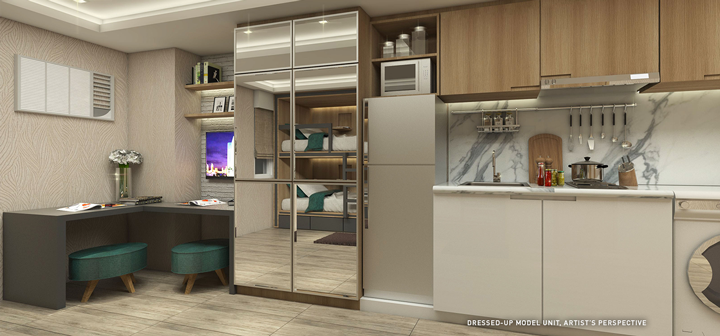 Switch to inverter appliances
Investing in inverter appliances is much easier when you live in a condo. You don't really need a lot, hence, you are at liberty to not scrimp on modern-day home essentials like an inverter refrigerator and an air conditioner. These small choices will have a huge impact later on as you enjoy more savings in your electricity and easier maintenance of these appliances.
---
Ditch disposables
Make it a habit to use sustainable products for your kitchen. Refrain from using single-use plastic products. Not only will you significantly reduce your trash output and help the environment, but you will also save a great deal of money.
---
Reuse and recycle
Cut back the need to buy new products and try to reuse or repurpose items. Segregate waste and keep a recycle bin. Recycling is a choice and a way of life. It's one of those habits that help you make money while helping the environment.
---
Eat home-cooked meals
Make full use of your kitchen by cooking your meals yourself. Aside from being more budget-friendly, you will know exactly what goes in your food, making it much easier for you to stay healthy.
SMDC encourages sustainable living through home-cooked food, that is why a supermarket and a convenience store are located within the development. Those who live in Sea, Shell, Shore, Trees, Princeton and Breeze Residences can also get farm-fresh produce every Saturday and Sunday morning through The Good Guys Market, with fruits and vegetables sourced straight from farms in Pampanga and Benguet.