SMDC continues to build a community of Good Guys.
Like a child, she reveled in the sight of the banana bunches and twigs (locally termed 'buwig'), marveled at the colorful corkwood tree flowers (locally called 'katuray') and excitedly grabbed the giant catimon mangoes. She was taken back to her days in the province, where one woke up to the smell of freshly cut grass and where fruits were allowed to ripen right at the stem, with their twigs still in place. The last catimon mango she ate was several years ago, on a visit to Indonesia.
For someone like Libertine de la Cruz who sees beauty in oft-overlooked details, and whose palate can discern the taste of freshly harvested produce, The Good Guys Market has been a very welcome experience.
She and her family used to spend many weekends traveling to Tagaytay to get their fill of farm-to-table food at places like Sonya's Garden. But during the first few weeks of lockdown, they have had to make do with ingredients that went through life-lengthening processes, devoid of the juicy, crunchy, savory taste and nutrients of a fresh pick. So it was like breathing in fresh air when she saw a market set up one Sunday in March in her Breeze Residences home in Roxas Boulevard.
The Good Guys Market is a weekend market set up by SM Development Corporation (SMDC) to connect displaced farmers with consumers through SM Foundation's Kabalikat sa Kabuhayan on Sustainable Agriculture program, which links around 26,000 small-scale farmers directly with consumers.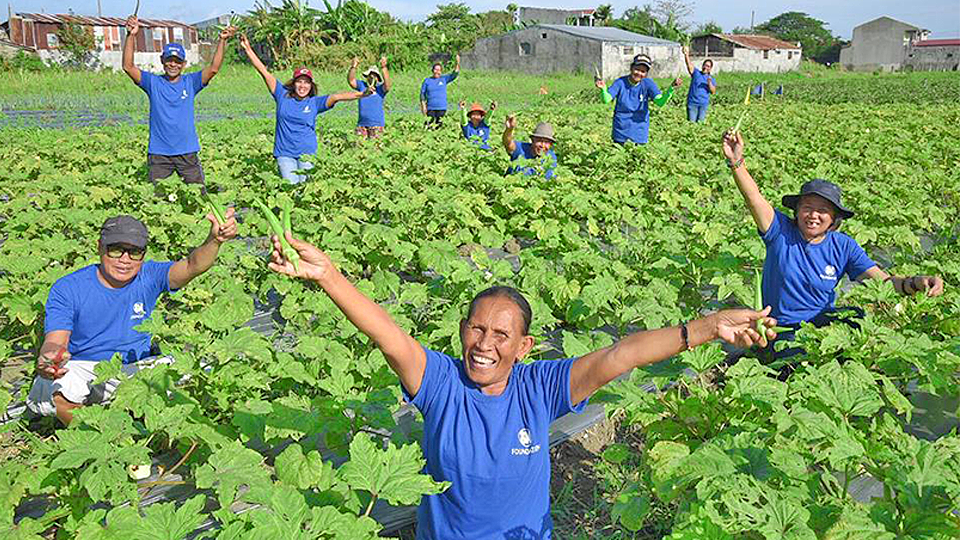 Libertine now looks forward to Sundays, eager to make discoveries at the Market that will enable her to plan her family's culinary treat for the week. This particular Sunday, she is whipping up a fusion of Filipino and Greek-Italian cuisines: Ensaladang Katuray and a pasta dish of fresh basil, tomatoes and feta cheese tossed in olive oil.
She may sound like one, but she is not a professional chef. She is simply a person who loves to put together things and transform them into pieces of art, like the wind chimes made of wine bottles, painted in different colors, that adorn her dining room and give that lulling effect as the wind enters her balcony.
"This is why I just love my home. I do not feel like I had been in isolation for the last three months. I am able to do so many things, enjoy all of life's pleasures from pre-quarantine days and to be very productive," she muses.
Unlike many people who are raring to get out and get back to their pre-Covid lives, Libertine is having a grand time in her home.
"In the morning, I wake up to the beautiful Manila Bay sunrise. From my balcony, I have a magnificent view of the now-clear blue skies, and down below are blue waters from our property's swimming pools and the greenery that covers them," she says.
Two major considerations in her choice of Breeze Residences were proximity to her workplace – the Cultural Center of the Philippines (CCP) – and the magnificent view of the Manila Bay sunset. She and her family have been enjoying their unit for almost four years. The lockdown has made them love their home even more. "It is perfect for a work-from-home or home school arrangement," she says.
Her workdays are usually packed with Zoom meetings and signing of papers. She loves the fact that CCP is only a few minutes' walk away from her home. The messenger has easy access to her for papers to sign, which can be a lot in a day! She uses the 8th floor grand lounge area as an extension of her home office. This is where she signs documents and meets with her assistant.
She recounts how one of her staff members was compelled to write about the grand lounge area of the property: "She was so impressed with the place that she did a Facebook post of the property that vividly described the grand lounge area, including the number of couches, how comfy they were and the well-appointed intricacies that made the ambiance perfect for a home-office extension. I didn't even realize we had that many couches!"
Before the Market, she and her husband had to go out to buy groceries in bulk, so that they could minimize frequent travels outside their home. But with The Good Guys Market every Sunday, they no longer have to risk going out of the property. And she's got extra time on her hands to indulge her other passions, especially cooking. "Whatever condiment or ingredient I need to complete the day's culinary adventure, I can easily grab at the Alfamart downstairs," she muses.
Apart from the joy of finding rare gems like katuray flowers or catimon mangoes, there's another reason she loves the Market.
"Not only do I get a regular supply of healthy, organic, fresh produce and some rare finds; I am also able to contribute, in my own little way, to making the lives of our farmers a little better, especially during this critical time."
But it isn't just the farmers she is helping. A regular customer at the Market, Libertine buys in bulk even when there are only three people in her household – she, her husband and their daughter. It turns out that she regularly gives the Breeze Residences security personnel cooked meals.
And that's the mark of a real Good Gal.