From spacious and functional units to upscale amenities, SMDC's Ice Tower Residential-Office helps you balance work, life, and play perfectly
Work-life balance may seem impossible, especially if you're an urban commuter. most of your time and energy are spent battling and burying your head in work—nothing to spare for leisure. At one point, you probably even considered spending the night in the office because that's just how exhausted you were.
Nestled in the SM Mall of Asia Complex, SMDC's Ice Tower RESO was constructed to address this concern and break the mold of conventional real estate development. Its masterplan and architectural design made it possible for homes and offices to coexist under the same roof.
In support of the entrepreneurial lifestyle of the residents, SMDC's Ice Tower RESO offers exclusive spaces—ranging from studios to two-bedroom units—which can be transformed into a residential unit, a workspace, or a little bit of both.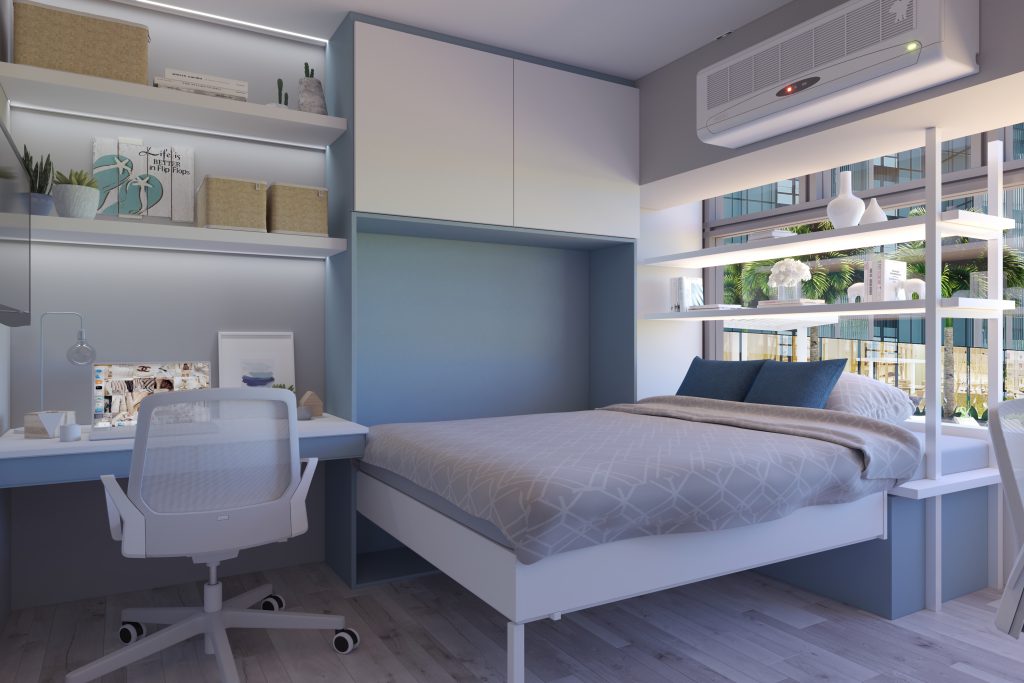 All units are designed to allow maximum natural light into the unit. Plus, no need to be concerned about power interruptions as every living space is supported by a 100 percent backup power system.
The commercial hub on the ground floor houses a variety of restaurants and stores where you can find your personal and professional needs. The business hub can be used for meetings and presentations; function halls for larger gatherings; and the social hub for quick huddles.
Those who want to take a breather and temporarily escape the rush city life can drop by the Sky Lounge—a rooftop communal area where you can hang out with other residents and business owners.
Apart from these, the mixed-use development also possesses a selection of amenities that are not only comfort-oriented but also productive: a state-of-the-art fitness hub, central and kiddie pools, co-working spaces, landscaped areas, and a terrace deck.
SKY LOUNGE
The space is open and airy. There are lounges scattered throughout the entire area where you can mingle with fellow entrepreneurs while overlooking Manila Bay. 
BUSINESS HUB
This hub has four fully-equipped rooms you can use for meetings, training, ideation sessions, or dinner meetings. You'll also gain access to Wi-Fi and business services. 
AMENITY AREA
Are you up for an active lifestyle? Do some laps in the pool, run on a treadmill, or work on your core at the gym. You can also do yoga at least 15 minutes a day to keep your body and mind healthy. 
The Ninoy Aquino International Airport (NAIA) is only a 10 to 15-minute drive from SMDC's Ice Tower RESO while SM Mall of Asia, SMX, SM Arena, National University, and IKEA are within walking distance.
All these make SMDC's Ice Tower RESO perfect for entrepreneurs committed to grow their business and to make their own mark.