SMDC residents demonstrate what Good Guys are made of.
After spending years working in an industry that was unrelated to his training, Rence Urian decided it was time to go home to his passion.
Rence is a 29-year-old nursing graduate. 2020 was supposed to be the year when he would finally answer his heart's true calling. His eyes were set for that nursing job in Japan. After all, he had already done the paperwork and aced the pre-qualifying exams.
But the COVID-19 pandemic changed all that.
Ever optimistic, Rence held his head up and spent his time reviewing in his Grass Residences unit to keep himself ready for any opportunity that might come his way.
One day in late February, as he was on his way to his unit, he saw a post in the elevator that made his eyes light up. It was an announcement under The Good Guys campaign of SM Development Corporation (SMDC). It was a call for volunteer nurses to join a health and wellness caravan to SMDC properties. Without hesitation, Rence enlisted himself, thinking that it was the perfect opportunity to return to the medical field after years of working in the BPO industry.
After graduation, he wanted to work overseas to earn enough money to support his family, but countries tightened their minimum employment requirements for medical workers. Rence decided to enter the BPO industry instead.
It was a decision that he does not regret. He says that the experience allowed him to get to know himself better. He spent years in the BPO sector, climbing the ranks across different companies. But he kept his spirit of volunteerism alive by taking on medical and social jobs on the side. But the workload of his job ultimately proved to be too much for him. Last year, Rence decided that he had already spent more than enough time working away from his true calling. He wanted to return to nursing and pursue his plan of working abroad.
But as COVID-19 started to spread across the world, everything was put on hold. Rence found himself making his way back to his condo unit and staring at that elevator notice.
"When I saw that post, I was so excited to join that I even asked my friends to come with me," he says. "I missed the feeling of working without expecting compensation other than the smiles and thank you's of the people whom one has served."
The first medical mission was set for the second week of March, but it was shelved as Metro Manila was about to go under an Enhanced Community Quarantine.
Rence refused to sit idle; he continued to study in his condo unit. He spent most of the lockdown period alone as his family returned home to the province, but Rence hardly feels isolated, crediting the strong sense of community at Grass Residences.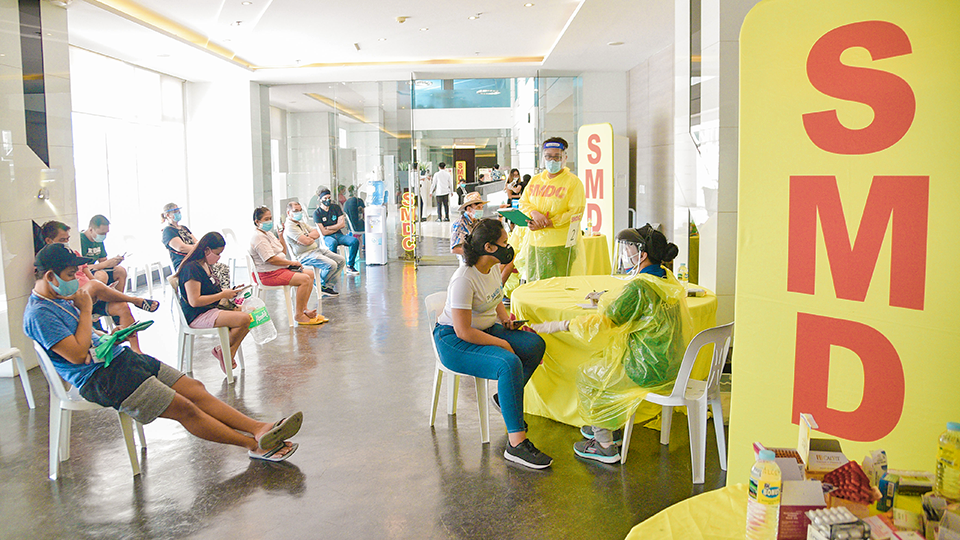 In June, Rence finally got a call from SMDC. With the easing of the lockdown to General Community Quarantine, the health and wellness caravan was finally pushing through.
Rence was taken to Sea Residences in Pasay City for general consultations. Blood tests were taken, along with ECGs and X-rays. Reading glasses, vitamins and medicines were handed out to residents for free.
Residents of the property underwent the first round of consultations, followed by the property service staff. They first saw Rence, who was assigned to take vital signs. There, he encountered many senior residents who apparently needed a listening ear, more than anything.
"They have been locked inside their homes and have had no one to talk to about their fears and concerns regarding the pandemic," Rence says. "Merely listening to their sentiments, I felt like I was already helping."
That sense of fulfillment has made Rence feel like a whole person again. The feeling had eluded him in the past years. Now he has found the perfect opportunity to serve. He promises to give back as much and as often as he can.
"What I enjoyed most about the program is how SMDC opened an avenue not just for its elderly residents, but also for its service workers," Rence says. "I encountered sweepers whose blood pressures went as high as 170 over 140, but would have been unaware of it. If not for this program, they would not be able to go to a hospital."
"When you wear that SMDC shirt, people look up to you. You are part of a big brand that gives back to the community," he says. "It has been very fulfilling and gratifying."