Construction for the Metro Manila Subway is still on track despite quarantine restrictions, with a target to begin partial operations by 2021—yes, next year.
Where will the Metro Manila Subway take you?
The first purely underground railway system in the Philippines has a planned span of 36 kilometers from Quirino Highway in Quezon City all the way to the Ninoy Aquino International Airport Terminal 3 in Pasay City.
It will ideally cut down travel time between the two spots from one hour and 10 minutes to 45 minutes.
A total of 15 stations are planned across the Metro, with stations at the business
districts in Ortigas, Bonifacio Global City, and Makati City. Initially, the "partial operability" of the first three stations— Quirino Highway, Tandang Sora, and North Avenue—was slated for 2022. According to Tugade, the train depot in the City of Valenzuela is crucial to allow for a partial opening in 2022.
The subway is expected to carry 370,000 passengers daily, with a full capacity of up to 1.5 milion. Trains are designed to run at speeds of up to 80 kilometers an hour. In comparison, the Metro Rail Transit Line 3 currently runs at just around 30 kilometers per hour.
---
SMC completes Skyway 3 ahead of schedule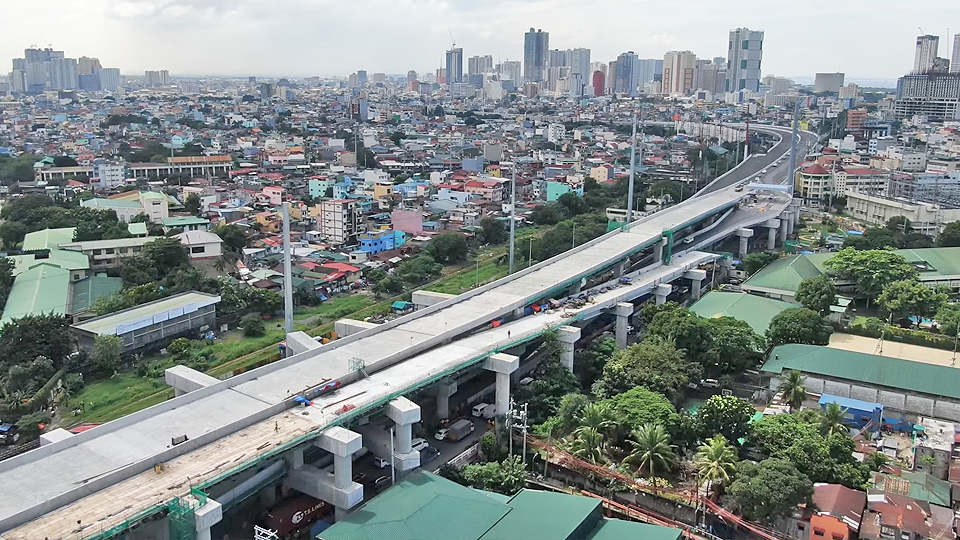 San Miguel Corporation (SMC) president and chief operating officer Ramon Ang has announced that the construction of the entire 17.93-kilometer stretch of the much-awaited Skyway 3 project linking Southern and Northern Luzon seamlessly has been finally completed.
This was done ahead of the original October 31 schedule the company earlier announced, following delays due to the coronavirus disease 2019 (Covid-19) pandemic.
"I'm happy to announce that the whole structure of Skyway 3 is now complete. With this, Skyway 2 in Buendia is now officially extended all the way to the North Luzon Expressway. After many challenges, this project faced in previous years, the dream of connecting north and south and providing an alternative to Edsa is now a reality," Ang said.
With Skyway 3, travel from South Luzon Expressway (SLEX) to North Luzon Expressway (NLEX) will now only take 20 minutes, from around three hours previously. Magallanes to Balintawak will only take about 15 minutes, Balintawak to Ninoy Aquino International Airport (NAIA) also only 15 minutes, and Valenzuela to Makati in just 10 minutes.
However, Ang said the expressway cannot be opened to the public just yet, as finishing works, such as the proper curing of asphalt, have been delayed by continuous and heavy rains.
"We're very excited to open Skyway 3 to the public. We just have to wait for the weather to improve so we can make sure that the asphalt will cure properly. That and a few more finishing touches are all that's needed, and then we can open, soon," he added.
---
New Clark airport passenger terminal completed, to operate by January 2021 — DOTr
The new passenger terminal building (PTB) of the Clark International Airport (CRK) is now 100% complete and is all set to start operations by January next year, the Department of Transportation (DOTr) said Tuesday.
In a statement, the DOTr said the airport expansion project has been "completed by end-September, ahead of its original October target completion date."
"Once operational, it is projected that CRK's current operational capacity will get a boost, and the airport's passenger volume will be tripled from the current 4.2 million to 12.2 million annually," the agency said.